Opera
I am a big opera fan and try to take the opportunity to see good opera whenever I can. 2004 has been a busy year, having seen three in Colorado, and one in each of New Orleans, Santa Fe, Glyndebourne and Sydney. Paula and I went to the latter three places in the space of four weeks, which was quite a whirlwind global opera tour, covering about 16,000 miles!! See below for more information on my opera experiences.
Santa Fe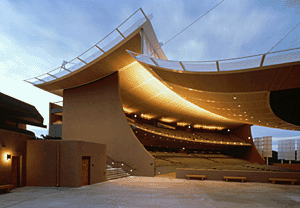 The Santa Fe Opera is special to me. I attended my very first live opera there in 1985, when I was touring the US as a student on a "Coolidge Pathfinder" travel scholarship from Balliol College, Oxford. I was visiting my friend Phil Maini in Los Alamos and we made a last minute decision to visit the opera there. We saw the rarely seen Die Liebe der Danae by Strauss, featuring Ashley Putnam, who I thought was wonderful. The opera house is in a magnificent setting, in the wild scenery north of Santa Fe, and their productions are always of the highest quality.
Since 1996 I have organized an annual trip to the Santa Fe Opera for a varying group of friends. The size of the group peaked at 43 in 2001 and 2002. We have bought around 186 tickets over that time and well over a hundred different people have been on the trip. For almost all of them it was their first experience of the Santa Fe Opera, and for many it was their first time at any opera. It's nice to have been able to introduce so many people to something I enjoy so much. The 2005 trip will be our tenth annual trip, so I plan to make an effort to get some extra people there and organize something special! Check the Santa Fe Opera trip history page for pictures from past trips.
Denver
For the past few years I have had seasons tickets at our local opera company, Opera Colorado. They only do three productions a year, with a few performances of each, but these have included a lot of the best operas I've seen in the past few years. In 2004, La Boheme and La Traviata were both outstanding, and in 2003 I really liked Lucia di Lammermoor. They are building a new opera house which will be open in late 2005, which will be exciting.
Metropolitan Opera, New York City
I have had several memorable trips to the Met in New York. My first visit there was in 1990, when I got standing room tickets for the opening night of the season. Pavarotti was starring in Il Trovatore, and was amazing - I saw him a couple more times in 2000 and 2002, but his voice wasn't the same by that point. Another highlight was going to the Met's millennium celebration in 2000, which I flew my Mum over from England for. The three tenors each performed a fully staged act from one of their favorite operas - the only time they have all appeared together in an evening of staged opera (as opposed to a concert). Placido Domingo chose Act II of Andrea Chenier, Jose Carreras did Act IV of Carmen, and Pavarotti did Act III of Turandot, which features "Nessun Dorma". We also went to a very posh charity dinner afterwards with the artists, so it was a hugely memorable occasion.
Sydney
I have been to the opera in Sydney a couple of times now, and the Opera House there is one of my favorite buildings anywhere (from the outside). Went most recently with Paula in August 2004, and saw a very good production of Manon.
Glyndebourne
I went to the opera festival at Glyndebourne for the first time in 2004, and it was a great experience. The opera house is in the grounds of an English country house with beautiful gardens, and the opera has an hour and half interval so that people can have elaborate picnics in the grounds. The English upper classes turn out with their white tablecloths, fine china and champagne, so it's quite a spectacle - check out the pictures. I may well organize more of a group to go there next year.